industries we serve
Steel Mills
Fertilizer
Paper Mill
Foundries
Power Plants
Cement Plants
Engineering Works
Petrochemical Plants
Power Plants
Paper Mills
Foundries
Engineering
Pharmaceuticals
Petrochemical plants
Textile Industries
Printing industries
Wire Rope Electric Hoists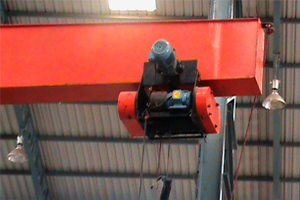 Capacity: 0.5 Ton to 20 Tons

R-Cranes Product of Electric wire rope hoists are designed with a modular construction which greatly simplifies, repairs & cuts downtime. The special features are low headroom, spur / helical gears running on antifriction ball bearings with lubrication, motors confirming to IS 325, "fall to safe" brakes which automatically operate in case of any power failure, tested wire rope confirming to IS 2266, forged hooks conforming to IS 3815 and push button stations operating at step down voltage of 110 V, 42 V or 24 V.
The design is based to comply with IS 3938 norms. Wire Rope Hoists are compact, rugged & elegant in appearance to accommodate specific requirements. The hoists can also be built with micro speed arrangements (10% of normal hoisting speed), flexible trolleys to negotiate small radius, high speeds & high lifts, hoists are made suitable for steel mill duty, foundries & chemicals plants.
Types of Electric Wire Rope Hoists
Power travel Trolley Electric Hoists (Standard)
Heavy duty Hoist for class M-7 (III) & M-8 (IV) duty
Flexible Trolley Type Hoists for curve path
Double Speed Hoists (Micro speed up to 1/10th of Normal Hoisting speed
External Trolley Type
Flame Proof Hoists
High Lift & High speed Hoists
Custom built Hoists.
The electric wire rope hoists are a recognized full-fledged ergonomically design tool and a very reliable product with advanced technology features.
Manual push and pull trolleys easily couple with our electric hoists and provide excellent mobility options. The large capacity electric wire rope hoists offer high performance value while handling heavier loads. Electric wire rope hoists are built for extreme duty applications.
Electric wire hoists are a truly unique offering engineered for maximum operating comfort and control. Available in different adjustable speeds, these hoists are able to handle awkward loads by providing precise load positioning. A range of speeds make this hoist, the perfect solution for many difficult product handling problems and smooth hoist travel.
Standard Features
Modular Construction for easy maintenance
These top-quality trolley hoists have a low headroom configuration that provides the lowest headroom possible by positioning the trolley parallel with the beam.
Extremely durable, these wire rope models are ideal for use in three phases, heavy-duty service applications.
Elimination of failure as Virtual testing and Certification is done 100% full satisfaction
IP55- rated, suitable for outdoor service. Self-tensioning next generation rope guide secures rope in drum grooves.