industries we serve
Steel Mills
Fertilizer
Paper Mill
Foundries
Power Plants
Cement Plants
Engineering Works
Petrochemical Plants
Power Plants
Paper Mills
Foundries
Engineering
Pharmaceuticals
Petrochemical plants
Textile Industries
Printing industries
Jib Cranes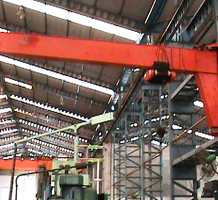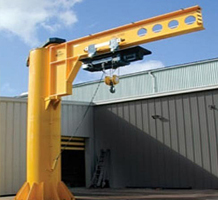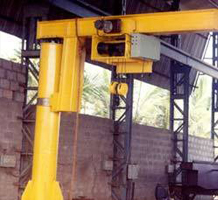 Jib cranes are versatile efficient solution for moving material within an individual work station, for transferring materials from work area to work area for serving as auxiliary lifting devices under overhead cranes.
Wall Mounted Types (Tension Braked Jib Crane)
Capacity from 250 kgs. To 1000 kgs.
Span Up to 3 mtrs.
180 degree rotation.
Utilized std. I-beam.
Most economical style.
Allows max. Usage of the area.
Full cantilever Jib Crane
Capacity from 250 kgs. To 3000 kgs.
Span Up to 5 mtrs.
180 degree rotation.
Offers greatest potential under boom clearance because it can be installed closer to the ceiling than other wall mounted jib cranes.
Allow max. Usage of the work area.
Self Supported Pillar Mounted Type
Capacity from 1000 kgs. To 10000 kgs.
Std. Span Up to 6 mtrs.
360 degree rotation.
Designed plants assembly is secured by mean of anchor bolts to prescribed reinforced concrete foundation with the number of anchor bolts varying with the capacity of the crane.
The pipe column is designed to give max. Strength and min. defection to resist bending, buckling and crushing.
The top bearing assembly utilities tapered roller bearing, provided with grease fitting for proper lubrication.